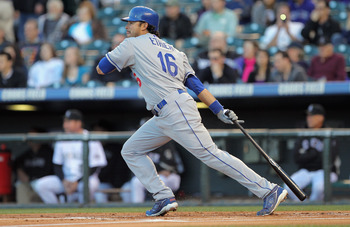 Sorry for the lack of posts. I graduate college in 9 days and prepping for that has taken up most of my time. I've managed to catch enough Dodgers to hold me over. I can't tell you how excited I am now that Frank is out making a fool of himself and digging himself deeper into his own grave.
The two Kemp walk-offs last week were a lot of fun too. I was at the Sunday game where Bills pitched a gem only to have Broxton blow it and then Andre and the Bison bail him out.
Up until the series against the Cubs, the Dodgers had only played teams that had won 85 or more games in 2010. Considering the fact that no one expected this team to be anything special, the sparks we've seen against a very tough slew of opponents have been a pleasant surprise. If they can continue to compete against the Giants and Rockies, we may very well have ourselves a pennant race. The Dodgers haven't even played the D'Backs, the NL West punching bag. I'm a cynic and I like some of our chances.
Jerry Sands has had some tough breaks but his power and plate discipline will hopefully keep him on the club long enough for everything else to even out. I'm hoping he'll be playing first base against lefties while Lame James Loney collects splinters. Hopefully Uribe's groin is nice and rested (and he hasn't gained 50 pounds since the last time he played) and he can make an appearance this series.
The loss of Casey Blake is tough, especially since he was hot when he went down. This is an opportunity for Russ Mitchell to show what he can do. Let's hope its better than his September 2010 debutant ball. Any sort of kick would be nice. The offense came alive at Wrigley this week but I'm still not convinced that anyone not named Andre or Matt is dependable. Those two are on fire and even though Kemp has slowed down, they're the entire reason we're not in the National League cellar.
Finally, I'm impressed with Mattingly. A few weeks ago when Kershaw was on the cusp of shutting down the Braves for a complete game, he went out and could have brought in Broxton. Instead, he stuck with the kid and, even though the gamble didn't work out, it was the right move and showed Donnie Baseball has manager balls. I was sold there.